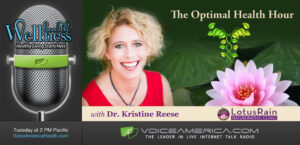 About The Host
Dr. Kristine Reese brings over twenty years of experience in partnering with people on their healing journeys. As a Naturopathic Physician, she knows first-hand the healing power of combining Eastern and Western medicine. Through her San Diego based practice, LotusRain Naturopathic Clinic, Kristine is helping patients by offering a unique approach to medicine that is making optimal health a reality for hundreds suffering from symptoms not fully addressed by the conventional medical community.
A compassionate and active listener Kristine strives to put a patient's care first. She designed LotusRain to be a peaceful, comfortable environment where patients feel safe and are treated with respect and professionalism. Creating a healing space is Kristine's highest priority. This means bringing a positive attitude to every appointment and being attentive to the needs of her patients with care and sympathy.
As a Naturopathic Physician, Kristine is trained to provide both primary care and naturopathic specialty care. She combines her diverse background and experience with tools and wisdom from the East and West, providing truly holistic primary care. Kristine holds an ND from Bastyr University and is licensed to practice in the states of both California and Washington. Additionally, she has completed extensive training in bio-identical hormone therapy, IV nutrition, chelation, oncology, and optimal aging.
About The Show
Listen to practical tips from a wide array of medical experts on how to heal your body naturally to live a more balanced life. Host Dr. Kristine Reese and her col-leagues will walk you through various scenarios where the right mix of science and spirit come together to achieve optimal health. Each episode promises to be enriching and empowering. Together, we uncover the proven benefits of naturopathic medicine to improve health for people of all ages through the use of natural therapies and medicines. It is the art, science, philosophy and practices of disease diagnosis and the treatment and prevention of illnesses.

This show is for you. We also take your emails and tweets live to answer questions and offer suggestions on ways to live better.
The Optimal Health Hour is broadcast live every Tuesday at 2 PM Pacific Time on the VoiceAmerica Health and Wellness Channel.