Tis the Season… For Football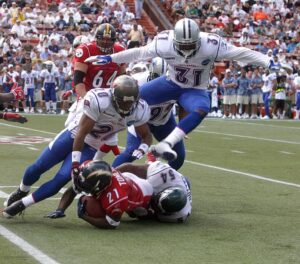 While some may spend the last few weekends of the year frantically shopping for the perfect gift, or drinking eggnog with co-workers in an "ugly" sweater, others are braving the elements with painted faces hoping their team will make it into the first College Football Playoff or carefully following the race for those coveted NFL Wild Card spots. From Thanksgiving through the New Year, football is as much a holiday tradition for some families as chopping down trees and overeating. Unfortunately, this beloved sport isn't "all fun and games". In 2013 there were 228 diagnosed concussions in the NFL and a 1994 study found that 10% of college and 20% of high school football players sustain brain injuries.
Traumatic brain injuries (TBIs) affect more people each year than breast cancer, prostate cancer and HIV combined. Recognizing these injuries and providing proper care as soon as possible is imperative for recovery. Treatment typically involves avoiding vigorous activities, the use of NSAIDS to reduce inflammation and close monitoring; however, there is emerging data supporting the administration of progesterone to treat TBIs. Born of the observation that gender influenced clinical response to TBIs, a hormonal influence on brain inflammation was investigated. Subsequent animal studies indicated that progesterone reduces cerebral edema, down-regulates the inflammatory cascade, decreases post-injury ischemia, reduces glutamate related excitotoxicity, enhances the effects of GABA, and protects mitochondrial function. Recent human clinical trials have corroborated these findings: the administration of IV progesterone for three days or IM injection for five days post injury reduced 30-day mortality rates by half. It appears that the sooner the administration of progesterone the better, although beneficial effects have been observed up to 24 hours after injury. Stay tuned for more information, as at least two phase 3 clinical trials are ongoing with expected completion dates early next year. Results from these studies may potentially influence the standard of care for the 1.5 to 2 million Americans who sustain a TBI each year. With the safety and efficacy progesterone exhibits for traumatic brain injury, the case could be made for arming the sideline staff at football games around the country with this very important hormone.
Source: Labrix
References:
Zemper: Analysis of cerebral concussion frequency with the most commonly used models of football helmets. Journal of Athletic Training. 29(1):44-50, 1994
Guo Q, Sayeed I, Baronne LM, Hoffman SW, Guennoun R, Stein DG, et al. Progesterone administration modulates AQP4 expression and edema after traumatic brain injury in male rats. Exp Neurol. 2006;198:469-78.
O'Connor CA, Cernak I, Vink R, et al. Both estrogen and progesterone attenuate edema formation following diffuse traumatic brain injury in rats. Brain Res.2005;1062:171-4.
Ma J, Huang S, Win S, You C. Progesterone for acute traumatic brain injury. Cochrane Database Syst Rev. 2012 Oct 17;10
Wright DW, Kellermann AL, Hertzberg VS et al. ProTECT: a randomized clinical trial of progesterone for acute traumatic brain injury. Ann Emerg Med. 2007 Apr;49(4):291-402.
Xiao G, Wei J, Yan W, Wang W, Lu Z. Improved outcomes from the administration of progesterone for patients with acute severe traumatic brain injury: a randomized controlled trial. Crit Care. 2008;12(2):R61.