Robbie Balenger, NuCalm enthusiast, plant based, ultra endurance athlete is obsessed with the notion of sustained motion through space and time. This obsession leads Robbie to seek out mammoth athletic projects that span weeks and months. By exploring recovery techniques and honing diet choices, Robbie is investigating how he can keep going… forever.
While Robbie's endeavors are more extreme than most, many in our community depend upon NuCalm to help them get restorative sleep, back to sleep and recover after exhaustive mental or physical endeavors.  Endeavors such as the Colorado Crush!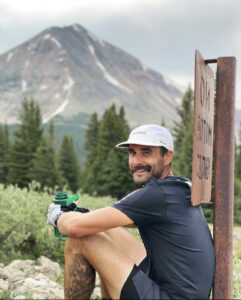 What is Colorado Crush?
An effort compiled of multiple bucket list worthy endeavors including the Leadville Trail Marathon, traversing The Colorado Trail (485 miles in 11.5 days), the Leadville Silver Rush 50-miler, summiting all 58 peaks over 14K feet in Colorado, and The Leadville Trail 100-miler. He squeezed in almost 1,200 miles and over 300,000 feet of elevation gain in 63 days!
Straight from the trail, Robbie Balenger, ultra-endurance athlete and plant-based fueled. He's using NuCalm to recover from the physical and mental exhaustion of his daily treks and also help him sleep at night while taking on the Colorado Crush– submitting all 14ers in Colorado (58 mountain peaks above 14,000 which range from easy to challenging and require mountaineering experience), running the Colorado Trail, and tackling 3 races in Leadville (26.2, 50, and 100 miles) along the way.
NuCalm and Restoration
After such an epic ongoing daily endurance test, no doubt Robbie could use help with restoration and recovery. Robbie relies on NuCalm to help him get restorative sleep, get back to sleep, and recover after a grueling day.While that may look different for each of us; NuCalm gives us all the same, reliable results.
NuCalm is a safe, proven neuroscience technology that quickly relaxes you without using narcotics or controlled substances. NuCalm naturally brings your body to the pre-sleep states characterized by deep relaxation and idleness. NuCalm uses four components that work together to bring the body to a deep state of calm. It takes about 3 minutes to administer the NuCalm components. You will feel the relaxation effects in 3-5 minutes. NuCalm leverages biochemistry, neurophysiology, and physics to suspend the mind and body in parasympathetic nervous system dominance – the only state that allows your body to recover, heal, and rebuild.
If you have questions, or would like to book an appointment and try NuCalm out for yourself, please reach us HERE.