Hack Your Way to Deep Stress Relief and Body Recovery – The Science Behind NuCalm Explored
Nick Onken likes to learn, explore, and is always trying to improve. He's an artist, photographer to the stars, and strives to live a healthy and interesting life.
Nick featured NuCalm in his "Hack Your Way to Deep Stress Relief and Body Recovery" podcast so he could share his favorite way to decrease stress and improve mental and physical recovery.
NuCalm isn't a replacement for sleep, but NuCalm can restore and refresh you after just one session.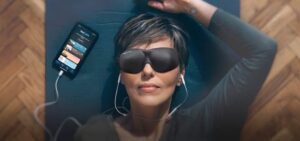 Research at Harvard Medical School shows a 20-minute session of NuCalm may give you the benefits of more than two hours of deep restorative sleep.
Nick Onken Interviews Jim Poole
In the upcoming episode we learn another biohack that we can use to upgrade our system, mind, and body. It's a neuroscience technology aimed at managing the human brain to have our extraordinary lives in color. To help us go in-depth with this new technology, I have the CEO of NuCalm on the show — Jim Poole!
In this episode, Jim and I talk about what NuCalm does. We dive deep into its neuroscience and how it can help you deal with stress, fear, recovery, and so much more.
So if you're ready to hack your way into deep stress relief and body recovery, let's dive in!
Who Is Jim Poole?
Before he met the inventor of NuCalm, Jim had been a part of plenty of large companies.
He also worked as a managing partner for Focused Evolution. Focused Evolution is a management-strategy consulting firm specializing in developing and implementing growth strategies for companies at every stage of the business life cycle. The firm has a global clientele and has served businesses throughout the medical device, life sciences, dental, IT, and financial industries.
In 2009, he became the president of Solace Lifesciences, a neuroscience company focused on personalized evidence-based wellness and performance. After learning about NuCalm's neuroscience technology's potential power to manage the human brain, Jim became a convert.
NuCalm is now the company's flagship product and the world's first and only patented technology clinically proven to lower stress and improve sleep quality without drugs. It naturally and safely creates deep relaxation within minutes with no side effects. Today, NuCalm is used by 49 professional sports teams, adopted by the U.S. military, and is newly available for personal use on a subscription-based plan.
The insights that Jim gained over the years of dedication and work in NuCalm led him to discover and gain the wisdom he's going to share with us.
Hack Your Way to Deep Stress Relief and Body Recovery – The Science Behind NuCalm Explored
As humans, we all have the so-called "reptilian brain." This reptilian brain pushes us to secure our survival, which sadly sabotages in various ways. Jim explained how post-traumatic disorder, one sign of our reptilian brain working, is treated in today's world.
"Dr. G. Blake Holloway, the creator of NuCalm, was wholly unimpressed with how PTSD was treated with conventional therapy and narcotic-based pharmaceuticals and cognitive behavioral therapy to the brain. He believes that this isn't a place where we can calm down. So if you're in a constant state of hypervigilance and fight or flight, you're not even at a baseline opportunity to begin the healing process."

– Jim Poole
The silver lining, though, is we have the resources and expertise to deal with it today. Jim shared how NuCalm, a product of wellness tech, can make this possible.
"Our nervous system has two parts: the central nervous system and the autonomic nervous system. The central nervous system governs our security. It's responsible for keeping us alive. Meanwhile, the autonomic nervous system governs human fear, stress, anxiety, and depression.   Listen to the interview HERE
LotusRain and NuCalm
NuCalm is a safe, proven neuroscience technology that quickly relaxes you without using narcotics or controlled substances. NuCalm naturally brings your body to the pre-sleep states characterized by deep relaxation and idleness. NuCalm uses four components that work together to bring the body to a deep state of calm. It takes about 3 minutes to administer the NuCalm components. You will feel the relaxation effects in 3-5 minutes. NuCalm leverages biochemistry, neurophysiology, and physics to suspend the mind and body in parasympathetic nervous system dominance – the only state that allows your body to recover, heal, and rebuild.  A 20 minute session may give you the benefits of more than two hours sleep!
The procedure includes:
Microcurrent stimulation patches are placed behind each ear. Research shows this helps facilitate the relaxation response.
 Noise-dampening headphones are used to deliver proprietary neuroacoustic software to bring your brain wave pace to the pre-sleep stages (12Hz -4Hz).
Light-blocking eye masks are used to negate visual stimuli and help maintain the NuCalm relaxation state.
If you're interested in trying NuCalm, we have a special to make it even more enticing:  NuCalm sessions just $15 when combined with an IV Infusion in the LotusRain IV Clinic. Book here now.